We are wondering what to make of the 79 page reply to the Lower House of Congress charge of impeachement. Here are my first impressions: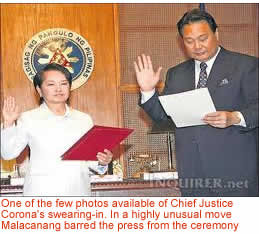 The Honorable SC Chief Justice Corona, who has shown so much energy to protect His former patron, GMA or the President of the Republic of the Philippines, and to offer breathtaking legalized condonement of graft and corruption of former officials of the last administration for the lame reason of Executive Privilege!.
But the CJ is fighting back, firstly by hurling accusations back to the current President P-Noy, claiming that everything about the impeachment case was planned by the President, forgetting his own past actions of partiality to GMA. Of course He denied all charges in the impeachment complaint and moved for the impeachement trial to be dropped or dismissed.
The Chief Justice mistake was that people would be quiet about how the Supreme Court works, but He will get the shock of his life.
This only shows that the honorable Chief Justice is a studious politician in disguise and deserves to step down. Do it now, CJ Corona, do it for the good of the country, do it now as that other neer do well Ombudsman Gutierrez who has seen the evils of her ways!
We would like to have a copy of the Honorable Chief Justice Corona 79 page reply!
And what is unusual and shows how unprofessional the Honorable Chief Justice is, the reply does not look official at all. For He did not affix his signature! What does this mean? It can be declared defective!
to be continued,... your comments are welcome!
More reading:
GMAnetwork: Look who is talking
For the contents of the (75+ pages) reply , click on
Jun Pasaylo: Corona answer to impeachment complaints.
House: CJ reply weak!
Corona asks Senate to dismiss impeachment complaint